Erasure @ Studio, 2011.11.18.
Két kisebb kitérőt leszámítva, a tegnapi volt a harmadik alkalom, hogy az Erasure Magyarországon járt. Ugyan Andy Bell és Vince Clarke kettőse már bőven túl van pályája csúcsán, de változatlan lelkesedéssel készítik átlagban 2-3 évente megjelenő albumaikat. A legújabbra (Tomorrow's World) ezúttal 4 évet kellett várni a rajongóknak, igaz, közben Clarke egy turné erejéig újból összehozta a saját részéről a Depeche Mode-ot '82-ben leváltó Yazoo-t, Bell pedig, második szóló-albumán dolgozgatott.
Az aktuális Erasure-lemez, címéhez méltóan, jövőbe mutató – köszönhető ez Frankmusik producerkedésének -, és telis-tele van jóféle elektro-slágerrel. Bár, a turné dalmenete túlnyomórészt az Erasure-klasszikusokra épült, mégsem lehetett rásütni a produkcióra, hogy egy agonizáló popzenekart látnánk, akik nem képesek túllépni 20-25 évvel ezelőtti önmagukon.
Ennek ellenére, koncertre való ráhangolódásként kaptunk egy nem túl jófej sztár-DJ-t, akinek biztosa megvan a maga létjogosultsága egy falunapon, vagy egy szalagavatón – főleg, ha már kellő mennyiségű alkohol fogyott -, de, hogy egy nem mindennapra jutó Erasure-koncert előtt nekem Wham!-et, Eddát és Pomádét kelljen hallgatnom, az kicsit kicsapta a biztosítékot. A legrosszabb momentum az egészben talán az volt, amikor kalózkendős lemezlovas belekezdett a Erasure Love To Hate You dalába, de – talán külső súgásra – időben észbe kapott, és lekeverte a számot. Hozzáteszem, a közönség egy része ugyanolyan lelkesen táncikált és lóbálta a kezét DJ Dominique szettje alatt, mintha már Andy Bell rázná a csípőjét a színpadon, de ez akkor is övön aluli ütés volt a jobb ízlésű, és valóban az Erasure-ért érkező közönségnek.
Szerencsére nem tartott túl sokáig az átgondolatlan múltidézés, és talán a legszebb Erasure-ballada, a '95-ös Sono Luminus hangjaira, színpadra lépett Andy Bell és Vince Clarke, valamint vokalistáik: Valerie Chalmers és Emma Whittle.
Bell egy gladiátorsisakban vezette fel antréját, mely kelléket az eBay-ről sikerült beújítania. A szám végére lekerült fejéről az este – az Erasure-től kicsit szokatlan módon – legmeghökkentőbb jelmeze, de az igazi varázslat mindig is Bell torkában, és nem a színpadi ruhatárában rejtőzött. Talán nem véletlenül állta meg a helyét ilyen hangi adottságokkal a brit Popstar To Operastar című TV-showban is.
Régi és új slágerek váltogatták egymást, Vince Clarke a tőle megszokott pókerarccal tette a dolgát gótikus vízköpőbe rejtett kütyüin – amiket néhány szám erejéig gitárra cserélt -, a háttérben vokálozó dívák arcáról pedig egy pillanatra sem hervadt le a mosoly.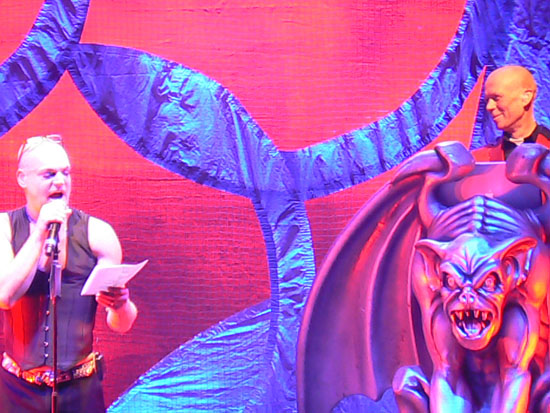 Nagyszerű popkoncertet kaptunk, amiből nem hiányzott a dinamika (Drama, Chorus, Victim Of Love, Love To Hate You, A Whole Lotta Love Run Riot), a romantika (Always, Blue Savannah, Fill Us With Fire, Be With You, Ship Of Fools, Alien) és természetesen a kötelező himnuszok (Chains Of Love, Sometimes, A Little Respect, Oh L'Amour, Stop) sem.
Bell tőle megszokottan két kézzel szórta a szeretetet a közönség felé. Volt itt "köszönöm", "jó estét", és más kedves magyar nyelvű kiszólás is, amiket – kicsit papásan – szemüvegben olvasott fel a cetlijeiről. De pont ettől ő az egyik legszerethetőbb figurája a szinti-pop világának. Semmi felesleges sztárallűr, csak a tökéletes szakmai alázat a publikum felé. De ezt is vártuk a modernkori popzene Simon & Garfunkeljétől.
http://langologitarok.blog.hu/2011/11/19/popgladiator_es_gotikus_vizkopo_erasure-koncerbeszamolo